Obsessive-compulsive disorder (OCD) is a disorder in which people feel anxiety due to unwanted thoughts or ideas and carry out certain repetitive behaviors to get rid of the anxiety. Behaviors such as repetitively washing hands with the concerns of contamination, checking multiple times whether windows and gas valves are safely closed, and obsessively checking whether stuffs on the desk are aligned in certain positions are examples of the OCD symptoms.

According to epidemiologic investigation, OCD is a very common in contrast to the popular belief. It is estimated that more than hundreds and thousands of people are suffering from OCD. OCD is a very common disease; however, after the onset of the disease, symptom alleviation and aggravation is repeated for a long period of time. It is known that genetic, environmental, and socio-psychological factors affect in combination the onset of the OCD. With the findings that the serotonin reuptake inhibitor has an effect on anti-compulsive effect, close affinity between abnormal serotonin levels and OCD is being investigated.

Since the OCD clinic opened in the Seoul National University Hospital psychiatric department in June of 1998, the CCNC laboratory has aimed to reveal pathological physiology of OCD and develop proper treatment through the findings. Our research team has conducted numerous researches using clinical evaluations, neuropsychological tests, and various brain imaging techniques, focusing on the underlying mechanism of anti-compulsive effect of medicine and cognitive-behavior treatments. Our research team has been recognized as a leading OCD research group both domestically and internationally, with various achievements such as multiple SCI-registered papers.

For the past two decades, one of the key factors that contributed to the understanding of pathological mechanism of the OCD was the development of the neuroimaging. Observing the brain of a living person through neuroimaging allowed researchers to analyze the difference in brain structure and function between OCD patients and normal people. One of the OCD onset model derived from existing research results is abnormalities of the neural circuit that connects frontal cortex and striatum. Extending from the classical hypothesis that suggests onset of OCD is due to abnormal neural circuit between frontal cortex and striatum, our research team has recently found out that the onset of OCD is more specifically due to the imbalance of dorsal and ventral neural circuits that connect frontal cortex, striatum, and the thalamus. Furthermore, it has been found that the imbalanced neural circuit is associated with decreased cognitive flexibility in OCD patients. This research has been highly acclaimed for suggesting a new paradigm for OCD, and was published in the journal Brain, in 2008.

The CCNC lab is continuing research on OCD patients in regards to cognitive function such as reward mechanism, functional brain abnormalities, and treatment mechanisms and turning our attention to computer based cognitive rehabilitation.
강박증은 '본인이 원하지 않는데도' 마음속에 어떠한 생각이나 장면 혹은 충동이 반복적으로 떠올라 이로 인해 불안을 느끼고, 그 불안을 없애기 위해 반복적으로 일정한 행동을 하는 질환을 말합니다. 무언가 더러운 것이 손에 묻었을까 봐 여러 차례 반복해서 손을 씻는 행동이나 외출할 때 창문이 제대로 닫혀 있는 지 혹은 가스 밸브가 제대로 잠겨 있는 지 확인하는 행동, 또는 책상 위의 물건이 흐트러지지 않고 바로 놓여있는 지 확인하는 행동 등이 대표적인 강박증의 증상들입니다.

강박증은 대규모 역학 조사를 통하여 확인한 결과 이전의 인식과는 달리 매우 흔하다는 사실을 발견하였습니다. 우리나라에도 최소한 수십만 명 이상의 환자들이 강박증으로 고통 받고 있는 것으로 추정되고 있습니다. 이처럼 강박증은 매우 흔한 질환이지만, 한 번 발병하면 오랜 시간에 걸쳐 증상의 완화와 악화가 반복되는 특징이 있습니다. 강박증의 발병에는 유전적, 환경적, 그리고 사회심리적 요인들이 복합적으로 작용하는 것으로 알려져 있습니다. 세로토닌 재흡수 차단제가 항강박 효과가 있다는 것이 밝혀지면서, 세로토닌의 이상이 강박증과 밀접한 관계가 있을 것으로 현재 생각되고 있습니다.

1998년 6월 서울대병원 신경정신과 내에 강박증 클리닉이 개설된 후, 우리 실험실은 강박증의 병태생리를 규명하고, 이를 통한 치료법 향상을 위해서 노력해 왔습니다. 강박증 환자들을 대상으로 임상 평가, 신경심리 검사, 그리고 각종 뇌영상 검사를 실시하여 강박증의 인지기능, 신경망 이상에 대한 연구를 진행해 왔으며, 약물 및 인지행동 치료가 항강박 효과를 발휘하는 기전에 관해서도 관심을 기울이고 있습니다. 우리 연구팀은 지금까지 수십 편의 SCI 등재 논문을 발표하는 등, 국내외적으로 강박증 연구와 진료에 주도적 역할을 담당해 왔다고 인정받고 있습니다.

지난 이십여년 동안 강박증의 병리 기전에 대한 이해를 넓힐 수 있었던 중요한 이유 중의 하나는 뇌 영상 기술의 발전이었습니다. 살아있는 사람의 뇌를 영상을 통해 관찰함으로써 강박증 환자들의 뇌가 구조적 혹은 기능적으로 어떻게 다른지 분석할 수 있게 된 것입니다. 현재까지의 연구 결과들로부터 제시되고 있는 강박증의 발병과 관련된 모델로는 전두엽 (frontal cortex)과 선조체 (striatum) 를 잇는 뇌신경 회로의 이상입니다. 최근 본 연구팀은 강박증의 고전적인 원인론, 즉 전두엽-선조체-시상-전두엽 회로의 기능 이상이 강박증상을 유발한다는 가설 수준을 넘어 배측 및 복측 (다른 말로, 직접 및 간접) 신경 회로의 불균형이 강박증상을 유발한다는 것을 밝혀내었습니다. 또한, 이러한 신경 회로의 불균형이 강박증 환자에서 관찰되는 인지기능의 유연성 저하와 관련된다는 것을 밝혀내기도 하였습니다. 이 연구 결과는 강박증의 새로운 패러다임을 제시하였다고 평가되었고, 인지 과학 연구 분야의 최상위 저널인 Brain (2008년)에 게재되었습니다.

이 외에도 우리 실험실은 강박증 환자를 대상으로 보상기전과 같은 특정 인지기능과 관련된 뇌 기능적 이상과 치료 기전에 관한 연구를 계속 진행 중이며, 컴퓨터를 통한 인지재활에도 관심을 기울이고 있습니다.
Major Studies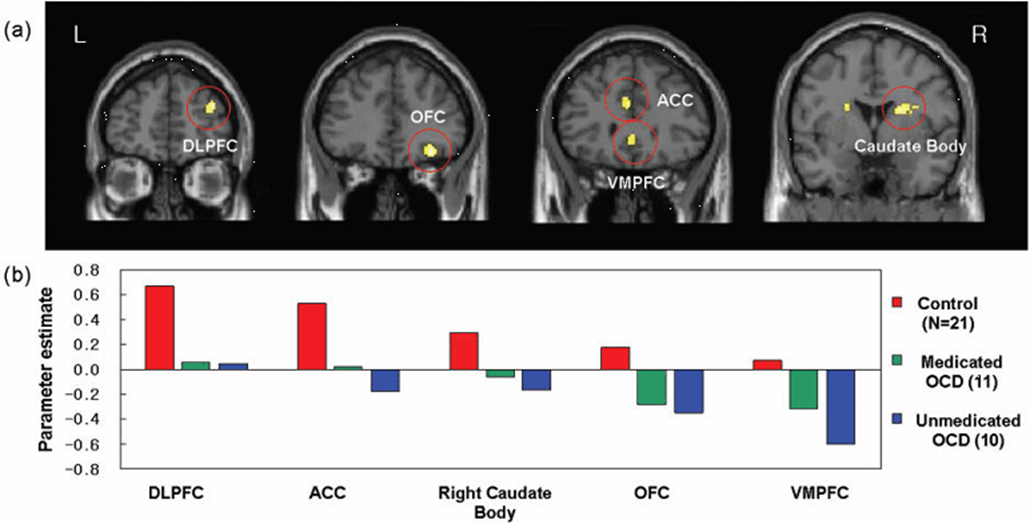 This study conducted a task-switching paradigm during event-related fMRI in OCD patients to clarify how brain activities reflect cognitive flexibility. OCD patients exhibited higher error rate and showed less activation in areas activated in healthy control, suggesting the imbalance between dorsal and ventral frontal-striatal circuit in OCD patient is responsible for impaired task-swithcing ability thus cognitive inflexibility of OCD.
위 연구는 과제전환 수행 시 강박장애 환자가 정상인과 비교해 낮은 활성화를 보이는 영역을 밝혔고 이는 복측 전두-선조 회로의 활성화의 불균형과 강박장애 환자의 과제전환 수행 과제 실패가 연관되어있음을 시사한다. (Gu et al., Brain, 2008)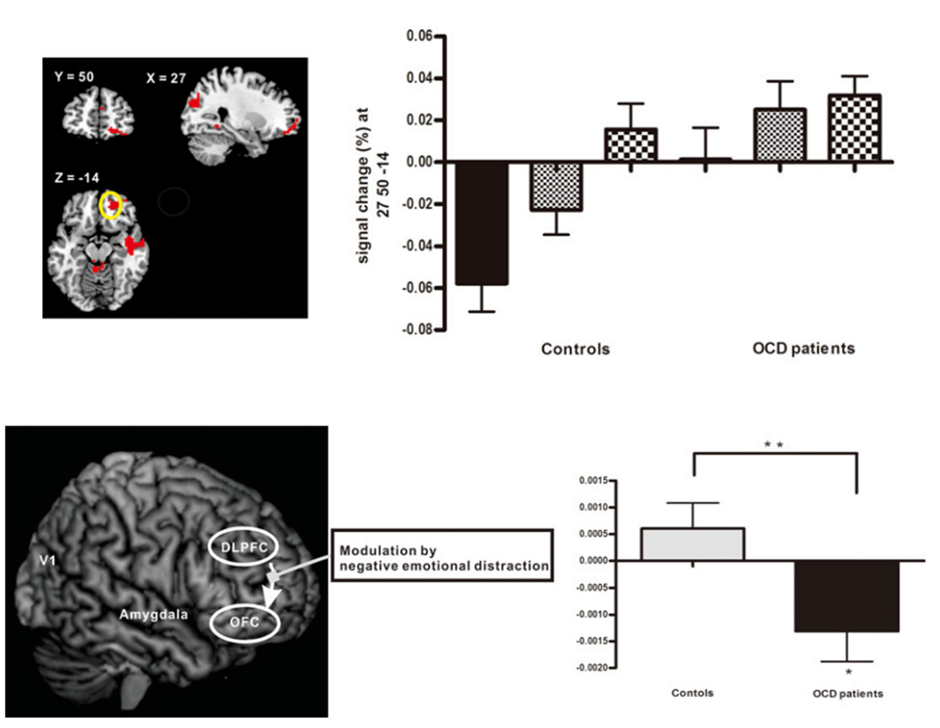 This study investigated the effect of negative emotional distraction during working memory task in OCD patients. When compared to controls, negative emotional distractions decreased connections between the dorsolateral prefrontal cortex (DLPFC) and the orbitofrontal cortex (OFC). These results suggest the hyperactivity of DLPFC and the decreased connections between the DLPFC and OFC might lead to disruptions in the top-down regulatory process served by OFC in OCD patients. Such problematic top-down process might serve as possible biological mechanism of OCD pathphysiology.
위 연구는 강박증 환자에서 작업기억력 과제 수행 중 부정적 감정이 미치는 영향 및 뇌연결성의변화를 확인하였다. 대조군과 비교하였을 때, 강박증 환자는 부정적 감정 하에서 배외측전전두피질과 안와전두피질 사이의 연결성이 저하됨을 확인했다. 이 결과는 강박증 환자의 경우 부정적 감정과 같은 스트레스 상황 아래에서 과도한 배외측전전두피질 활동성, 그리고 배외측전전두피질, 안와전두피질간 연결성의 저하로 인한 top-down 조절기능의 교란이 발생함을 제시하여 강박증의 병태생리의 생물학적 기전을 제시하였다 (Han et al., Psychol Med, 2015).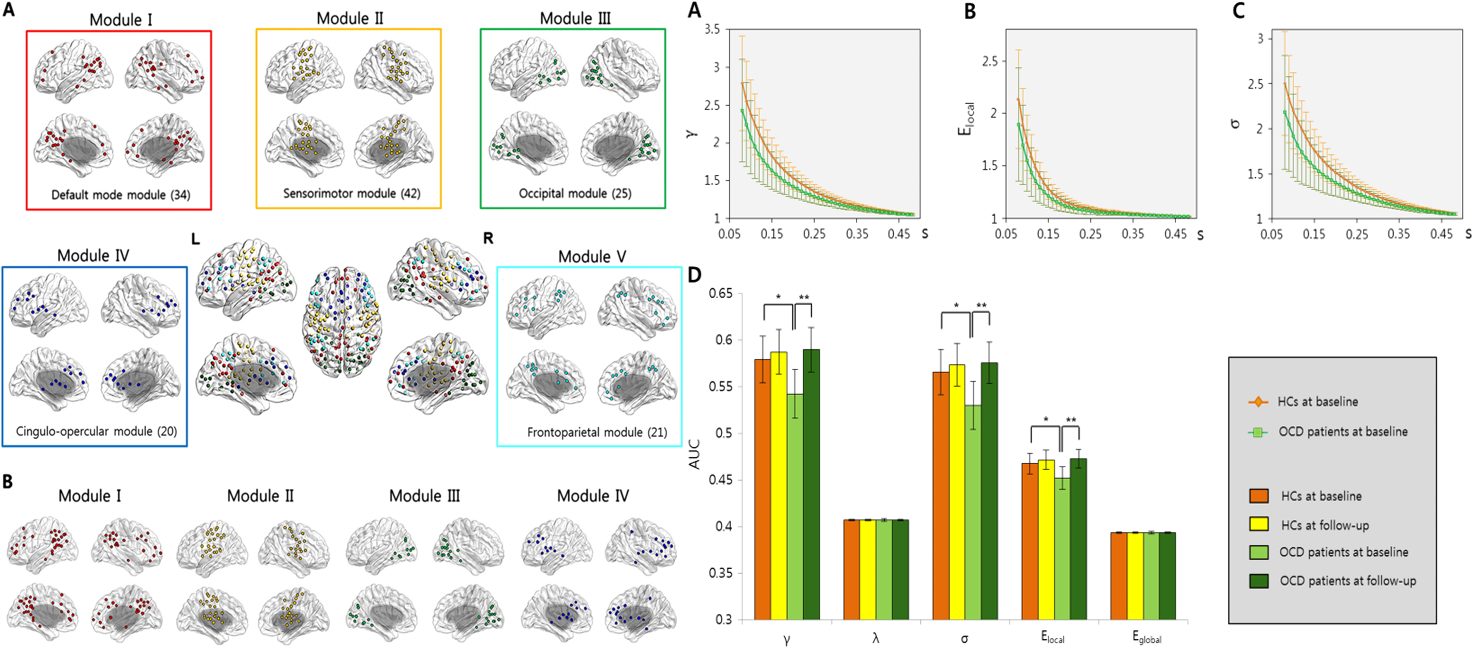 This study clarified dirrerential functional brain connectome in drug free OCD patients compared to healthy controls. In addition, indices of functional connectivity showed improvement after 16 weeks of pharmacological therapy in OCD patients, which could serve as plausible biomarkers for treatment response in OCD patients.
위 연구에서는 치료받지 않은 강박증 환자와 정상 대조군 사이의 기능적 뇌커넥톰의 변화를 규명했다. 또, 16주의 약물치료 후 강박증 환자에서 기능적 뇌연결성 지표의 호전을 확인하여, 강박증에서 약물치료 효과의 뇌연결성 바이오마커의 가능성을 제시하였다 (Shin et al., Biol Psychiatry, 2014).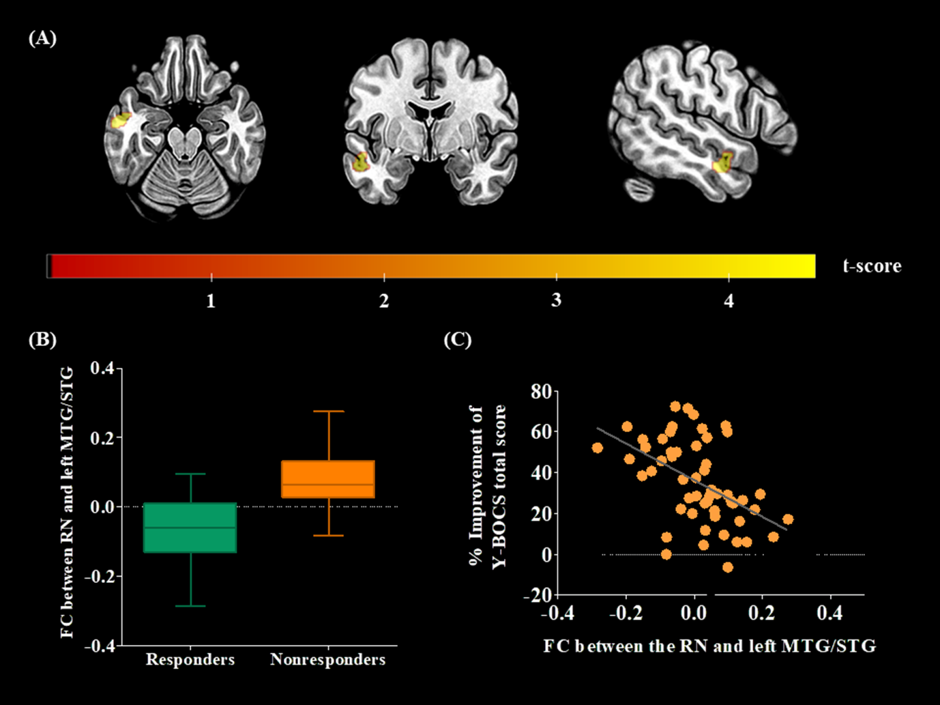 This study revealed differential functional connectivity of the raphe nucleus in OCD patients according to the response to selective serotonin reuptake inhibitors (SSRI), which in includes increased connectivity between the raphe nucleus and the middle temporal gyrus in SSRI non-responders compared to responders. These results suggest that functional connectivity indices of the raphe nucleus might serve as useful biomarker which could help to predict treatment response in OCD patients.
위 연구는 강박증 환자에서 선택적 세로토닌 재흡수 억제제 치료 반응에 따른 솔기핵의 기능적 뇌연결성 변화를 확인하여, 솔기핵과 좌측 중간측두피질 사이의 증가된 연결성이 강박증의 약물치료의 반응부족과 연관되는 것을 규명하였고, 솔기핵의 뇌연결성 지표가 강박증 환자에 있어 치료반응 여부를 예측하는 바이오마커로 기능할 수 있음을 제시하였다 (Kim et al., Neuropsychopharmacol, 2019).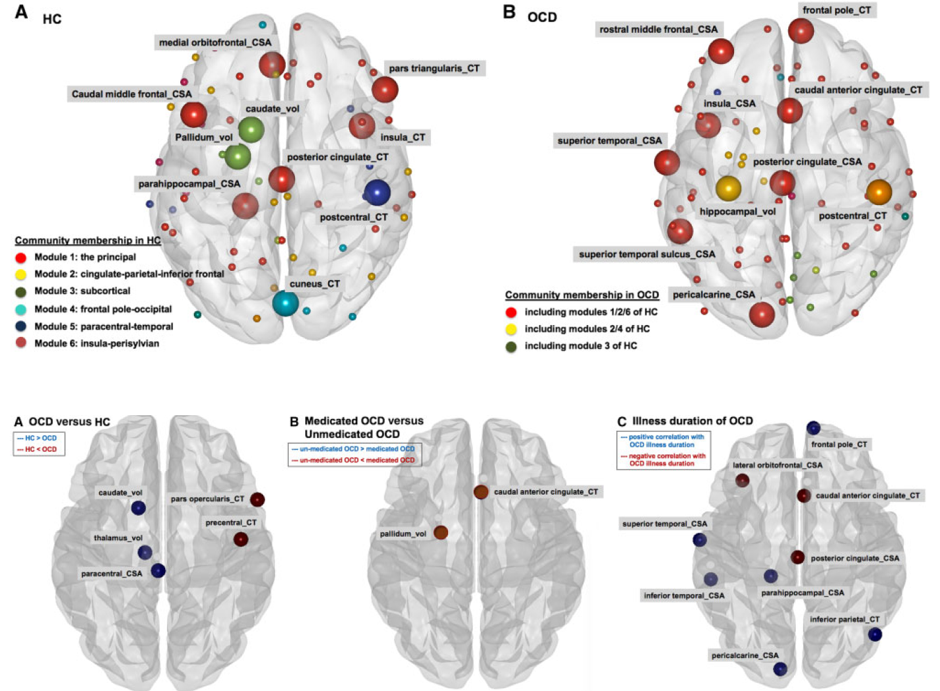 This large-scale study through ENIGMA OCD working group showed that the structural covariance networks of individuals with OCD are less segregated and show a reorganization of brain hubs, compared to healthy controls. These findings suggest a possible signature of altered brain morphometry in OCD and OCD-related alterations in trajectories of brain development and maturation, particularly in cingulate and orbitofrontal regions.
ENIGMA 강박증 컨소시엄을 통해 진행된 이 대규모 연구는 정상인에 비해 강박증 환자에서 뇌의 구조적 공분산 네트워크가 덜 분리되어 있으며 뇌 네트워크의 허브가 재구성되어 있음을 밝혔다. 이를 통해 강박증의 변화된 뇌 형태의 특징을 제시하였고, 뇌 발달과 성숙에 있어 특히 띠다발과 안와전두피질 부위가 중요함을 규명하였다 (Yun et al., Brain, 2020).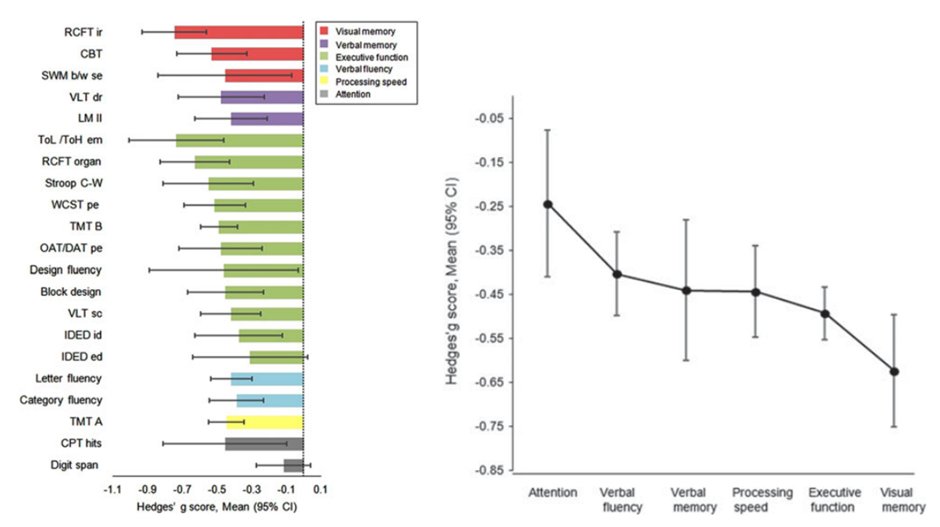 This meta-analysis study investigated cognitive functioning in OCD patients, OCD patients showed impairments in cognitive function across various domains including visuospatial memory, executive function, and verbal memory, and their effect sizes ranged from small to medium.
강박증 환자의 인지기능 특징을 메타분석을 통해 고찰한 위 연구에서 강박증 환자는 시공간 기억력, 집행 기능, 언어적 기억력, 언어적 유창성에서 경도-중등도 수준의 이상을 보였으며 청각적 집중력은 보존된 것으로 나타났다 (Shin et al., Psychol Med, 2014)., 2019).