Just a few decades ago, psychological approach was thought to be the only method of treatment for mental illnesses, as mental illnesses such as schizophrenia and obsessive-compulsive disorder were considered as the diseases of the mind. However, the discovery of the effect of chlorpromazine in alleviating various schizophrenia symptoms such as delusion along with continued clinical observations established drug treatment as an effective treatment method for mental illnesses. Recently scientific and systematic approaches to mental illness reported correlation between mental illnesses and structural and functional brain abnormalities, providing grounds for drug treatment and drug studies.

Despite the rapid development in drug treatment, absence of a method or standardization in quantifying treatment effect has limited drug treatments to depend on individual experiences. For instance, it has been difficult to share information or discuss about patients between doctors with a standardized method of quantifying treatment response, and efficient treatment has been hard to achieve with time delay in making major decisions such as changing drugs and choosing the appropriate treatment methods. As such, absence of an objective marker has posed negative influences on the patient's symptoms and prognosis.

Various researches have been conducted to find an objective biological marker that reflect the disease status and drug treatment effect for mental illnesses. Some studies evaluated the appropriate drug dosage by measuring blood concentration, while others utilized neuropsychological tests to objectively evaluate disease status and drug effect. However, previously explored methods still failed to directly reflect the brain state during treatment and how the drug affects the brain.

Fortunately, the advancement in neuroimaging became the turning point in overcoming such limitations. With neuroimaging methods such as PET, MRI, fMRI, QEEG, MRS, DTI, assessing the structural and functional changes in a living person's brain became possible. Before the development of neuroimaging, evaluating a person's brain was only possible during surgery or after death. But now we can noninvasively access the functional brain.

Administered psychotic disorders drugs interacts and alters the brain deviated from its healthy state. Application of neuroimaging methods that have been used by disease pathophysiological studies to drug research in assessing drug induced changes in the brain opened new paths in developing a more objective and quantitative indicator for drug effect.

To develop tailored treatment for individual patients that offer optimal treatment without any side-effects, the CCNC lab aims to use neuroimaging to develop drug response indicator and investigates differences in drug response according to genetic factors.
불과 수십 년 전까지만 하더라도 조현병, 강박증 등의 정신 질환은 마음의 병으로만 여겨 심리적 접근법만이 유일한 치료 방법이라 생각하였습니다. 그러나 1950년대 초 합성된 클로르프로마진이 망상을 비롯한 조현병의 여러 증상들을 호전시킨다는 사실을 알게 되었고 이후의 지속된 임상 관찰을 통해 약물 치료가 정신 질환의 효과적인 치료 방법이 될 수 있음을 확인하게 되었습니다. 또한 정신 질환에 대해 과학적이고 체계적인 접근이 시도되면서 최근에는 많은 정신 질환이 뇌의 구조적, 기능적 이상과 관련 있다는 사실들이 발견되고 있습니다. 이러한 결과들은 약물 치료와 약물 연구에 대한 또 다른 근거를 마련해주고 있습니다.

그러나 약물 치료의 비약적인 발전에도 불구하고 최근까지도 치료 효과를 객관화 할 수 있는 방법이나 기준이 없어 임상가 개개인의 경험에 의존한 약물 치료 밖에 할 수 없다는 한계가 남아있었습니다. 치료 반응을 정량화 할 수 없다는 점 때문에 치료자 간에 환자에 대한 정보를 교환하거나 논의하기가 어려웠고 약물 변경이나 치료 방법 선택 등 치료적으로 중요한 결정을 하는데 있어서도 시간이 많이 지연되어 효율적인 치료가 어려웠습니다. 이처럼 객관적 지표의 부재는 환자의 증상과 예후에도 부정적인 영향을 끼쳐왔습니다.

이런 상황에서 정신 질환의 질병 상태와 약물 치료의 효과를 반영하는 객관적인 생체지표를 찾고자 하는 여러 가지 연구가 시도되었습니다. 약물 치료 효과에 영향을 미칠 것으로 예상되는 혈중 농도의 측정으로 약물의 용량의 적절성을 평가하고자 하였고 여러 가지 신경심리검사들을 이용하여 질병의 상태와 약물 효과를 객관적으로 평가하고자 노력하기도 하였습니다. 그러나 그 동안의 방법들은 정신 질환 병태 생리의 중심에 있는 뇌의 상태와 약물의 뇌에 대한 효과를 직접적으로 반영하지 못한다는 한계를 가지고 있었습니다.

이러한 한계를 극복하는 데 있어 새로운 전기가 된 것이 최근의 신경영상학의 발달입니다. 신경영상학적 연구에는 PET, MRI, fMRI, QEEG, MRS, DTI 등의 영상 기법이 사용되는데 이러한 신경영상학적 방법을 통해 살아있는 사람의 구조적, 기능적 뇌변화를 평가하는 것이 가능해 졌습니다. 신경영상학 기술이 발달하기 이전에는 수술 중 환자의 뇌를 보거나 사후 뇌를 관찰하는 방법 정도로만 사람의 뇌를 평가할 수 있었다면 현재는 비침습적으로 활동하는 뇌를 평가 하는 것이 가능해 졌습니다.

정신 질환을 치료하기 위해 복용한 약물은 뇌와 상호 작용하여 건강한 상태에서 벗어나 있는 뇌를 변화시킵니다. 지금까지 질병의 병태 생리 연구에 주로 이용되어 왔던 신경영상적 방법을 약물 연구에 적용함으로써 약물에 의한 뇌의 변화를 평가할 수 있게 되었고 이를 통해 약물 효과에 대한 객관적이고 정량적인 지표를 개발할 수 있는 길이 열리게 되었습니다.

우리 연구실에서는 신경영상학을 응용하여 약물 반응 지표를 개발하는 연구를 하고 있으며 한 발 더 나아가 유전자에 의한 약물 반응의 차이를 신경영상학적 방법으로 규명하여 각각의 환자들이 부작용 없이 최적의 치료를 받을 수 있도록 맞춤치료를 개발하기 위해 노력하고 있습니다.
Major Studies

The above study compared changes in level of N-acetylaparate (NAA) in several cortical structures after 12 weeks of pharmacotherapy in OCD patients and healthy subjects. Compared to healthy participants, OCD patients showed significantly lower NAA levels in prefrontal cortex, frontal white matter, and anterior cingulate.
위 연구는 강박증 환자에서 12주간의 약물치료 후 특정 뇌 영역들의 N-acetylaparate (NAA) 농도 변화를 정상 대조군과 비교하였고, 강박증 환자에서 전전두엽, 전두엽 백질, 전측 대상회에서 정상대조군에 비해 더 낮은 농도의 NAA가 측정되었음을 보고하였다. (Jang et al., Am J Psychiatry, 2006)

The above study showed the different brain metabolic changes after administration of aripiprazole in two different genotype groups A1A1 and A2A2, suggesting the possibility of using dopamine D2 receptor gene Taq1A polymorphism as a possible genetic marker for predicting the response to aripiprazole.
위의 연구는 A1A1 유전자형과 A2A2 유전자형에 따른 aripiprazole 에 의한 뇌대사량 변화 차이를 밝혔고, 이는 aripiprazole 의 항정신병약물 효과에서도 유전자형에 따른 차이가 있을 가능성이 있음을 암시한다 (Kim et al., Pharmacogenet Genomics, 2008).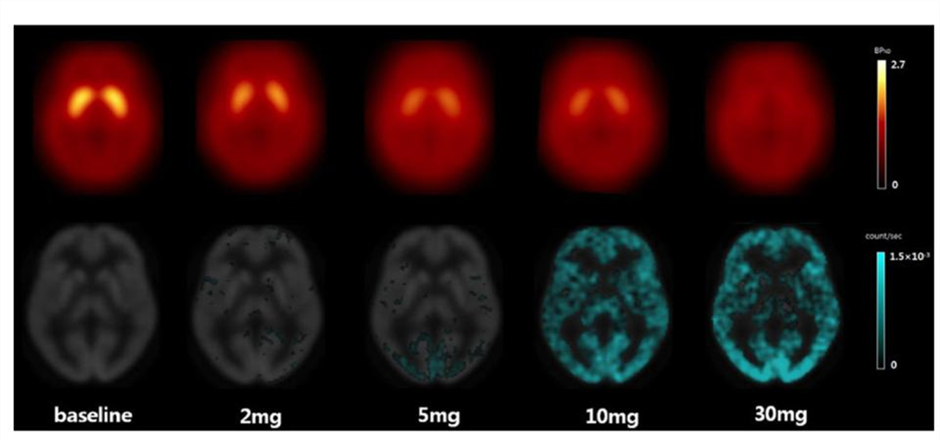 The above study discovered significant correlation between reduction in frontal metabolism and low working memory performance in healthy participants after administation of aripiprazole, demonstrating the possible adverse cognitive effect of aripiprazole.
위의 연구는 건강한 참여자들에게 aripiprazole 투약 후 전두엽 대사 감소와 작동 기억 수행 저하가 상당한 상관관계를 보이는 것을 밝힘으로써 aripiprazole이 인지 기능에 비치는 부정적 영향을 제시하였다 (Kim et al., Psychopharmacology (Berl), 2013).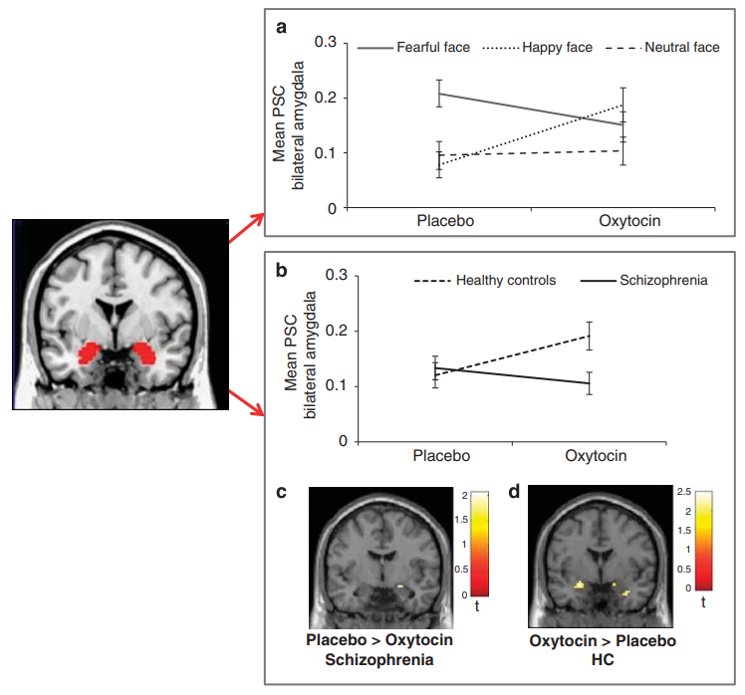 The above study investigated the effect of intranasal oxytocin upon amygdalar responses during emotion recognition task in schizophrenia patients. Compared to placebo conditions, oxytocin was shown to decrease amygdalar activity to fearful face recognition, whilst increaing amydalar activity to happy faces. Furthermore, while control group exhibited increased amygdalar activation after oxytocin, schizophrenia patients showed overall decreased amygdalar activity.
위 연구에서는 옥시토신 투여 시에 위약군과 비교하여 공포스러운 얼굴에 대한 편도체 활성도는 감소하고, 행복한 얼굴에 대한 편도체 활성도는 증가시키는 결과를 보여, 옥시토신의 편도체 활성도 조절 능력을 입증하였다. 또한, 조현병 환자의 경우 옥시토신 투여 시 편도체 활성이 감소하며, 대조군의 경우에는 반대로 편도체 활성이 증가되었다 (Shin et al., Neuropsychopharmacol, 2015).