Many people in the modern society are weary of mind and body due to psychological factors such as stress. Meditation is getting attention as a way to relieve the stress. The positive effects of meditation on the mind and body have already been scientifically proven. "Templestay". a short-term intensive program that includes meditation, is drawing attention as it it useful for practicing meditation and for healing mind and body. In particular, the Templesaty can be expected to be a treatment program alternative from the existing treatment in the case of patients with mild psychiatric disorders and even in the general population who is likely to develop mental diseases in the future. The Templestay program is known to have a complex combination of cognitive and emotional experience, but behavioral and psychological research has not been conducted systematically to prove its mechanisms. If the treatment effect of the Templestay program is proven, it is expected that the treatment will be performed as an alternative when the effect is not sufficient in patients receiving standard therapy such as conventional drug therapy or cognitive behavioral therapy. Therefore, this study intends to introduce the Templestay program as one of the treatment programs for mental illness, and the purpose of this study is scientific validation of the program.

We aimed to investigate the improvement of behavioral and psychological outcomes assessed by self-report questionnaire itmes through the standardized Templestay program in healthy population, including workers and graduate students. In addition, we observed significant changes in physiological, biochemical, and immunological aspects measured by anthropometry and blood tests. Structural and functional changes of the brain, measured by brain imaging techniques were also studied.
현대인들은 스트레스와 같은 요인으로 인해 심신이 지쳐있는 경우가 많은데, 이를 치유하기 위한 방법으로 명상이 주목을 받고 있다. 명상이 심신에 미치는 긍정적인 효과는 이미 과학적으로 입증되었다. 명상을 포함하여 구성된 단기 집중 프로그램인 '템플스테이' 는 명상을 실천하고 심신을 치유하는데 유용할 것으로 주목받고 있다. 특히 약물치료가 필요없는 경미한 정신과 증상이 있는 환자의 경우나 현재 스트레스 상황에 놓여있어 향수 정신질환의 발병 가능성이 있는 일반인의 경우에도 템플스테이는 새로운 치료적 대안이 될 것으로 기대된다. 템플스테이 프로그램은 인지적 체험과 정서적 체험이 복합적으로 작용한다고 알려져 있으나 이에 대한 행동, 심리학적 연구가 체계적으로 진행되지 않았다. 템플스테이 프로그램의 치료 효과가 밝혀지면 기존 약물치료나 인지행동치료와 같은 표준적인 치료가 충분하지 않을 때, 대안적 치료로서 템플스테이 프로그램을 시행할 수 있을 것으로 기대한다. 따라서 본 연구는 이러한 템플스테이 프로그램을 정신질환 치료 프로그램의 하나로 도입하고자 하는데 그 목적이 있으며 이를 위해 과학적인 검증을 하고자 하였다.

건강한 직장인 및 대학원생을 대상으로 표준화된 템플스테이 프로그램을 시행하여 참여자의 행동, 심리학적 변화를 평가하는 자가보고 설문지 항목의 점수의 호전 정도를 알아보고자 하였다. 또한, 신체계측 및 혈액검사로 측정되는 생리학적, 생화학적, 면역학적 측면의 유의미한 변화와 뇌 영상기술을 통한 뇌의 구조적, 기능적 측면에서 측정되는 유의미한 변화를 관찰하고자 하였다.
Major Studies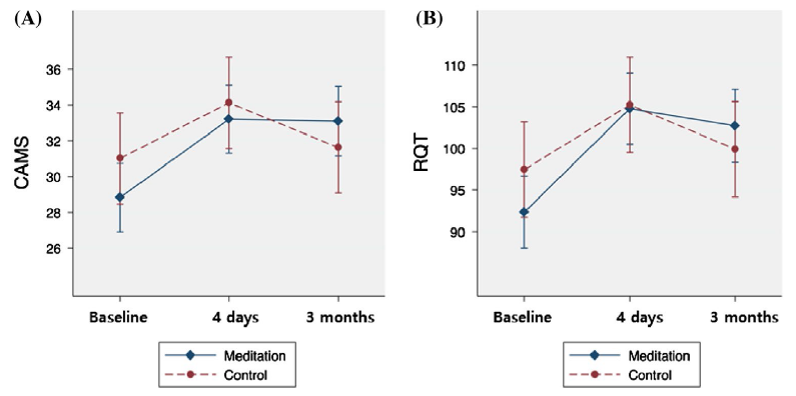 Post-Templestay, both the Meditation and Control groups showed significant increases in their mindfulness and resilience levels. However, at 3 months follow-up, only the Meditation group still showed significant increases in the mindfulness and resilience levels. These findings suggest Templestay can, as well as having beneficial effects in enhancing individual's mindfulness and resilience levels, be a possible treatment strategy in clinical populations, such as patients with depression and anxiety.
단기적으로는 체험형(실험군)과 휴식형(대조군) 템플스테이 프로그램 모두 마음챙김 및 정신적 회복능력을 개선시키는 것으로 나타났다. 그러나 장기적으로는 체험형 프로그램에서만 개선 효과가 유지되는 현상을 보였다. 이는 3박 4일의 체험형 템플스테이 프로그램이 마음챙김과 정신적 회복 능력 증가에 효과가 있다는 것을 의미하며, 체험형 템플스테이 프로그램이 우울증과 같은 환자군의 치료 방법으로서 가능성이 있음을 보여준다 (Hwang et al., Psychol Health Med, 2017)

Post-Templestay program, upon administration of flanker task whilst undergoing functional magnetic resonance image, on behavioral level, the meditation group showed a significantly decreased level of cognitive conflict compared to controls. Further, the group was observed with a significantly increased activation of right ACC, the level of which correlated with cognitive conflict score, suggesting Templestay program, via changing activation of ACC, enhances cognitive conflict funtion.
플랭커 과제를 사용하여 자기공명영상을 촬영하였을 때, 행동실험에서는 단기간의 템플스테이 후, 명상군이 대조군에 비하여 유의하게 인지갈등 레벨이 감소되었다. 또, 이 과제를 할 때에 오른쪽 전대상회 영역을 더 많이 사용하는 것으로 나타났다. 더 나아가 이 영역의 활성도 증가는 인지갈등 점수와 상관관계를 가져, 단기간의 템플스테이가 전대상회 영역 활성화에 변화를 주어, 인지갈등 기능을 향상시켰다는 것을 제시하였다. (Kwak et al., Front Psychol, 2020).

The significantly increased region of ACC inprior fMRI study was used as the seed to investigate the changes in connectivity during resting post-Templestay. As the result, the meditation group showed significantly increased connectivity between left rostral ACC and dorsomedial prefrontal cortex, the connectivity change of which mediated the scores of mindfulness and resilience. Further, at 3 months follow-up, the connectivity changes showed significant correlations with the maintenance of increased resilience levels in individuals. The study, overall, showed that the functional connectivity changes during resting post-Templestay increase and maintains the increases in resilience levels in individuals.
앞의 기능적 자기공명영상 연구에서 유의하게 증가되었던 전대상회를 중심영역으로 사용하여, 템플스테이 전/후의 휴지기 뇌연결성의 변화를 분석하였다. 그 결과 명상군에서는 왼쪽 앞전대상회와 전전두엽 피질의 연결성이 유의하게 증가하였으며, 이러한 연결성의 변화는 마음챙김 점수와 정신적 회복력 점수의 관계를 매개하였다. 더 나아가 3개월 추적 관찰 기점에서, 이러한 연결성의 변화가 향상된 정신적 회복력의 유지와 유의하게 상관이 있음을 보였다. 템플스테이로 인해 변화된 휴지기의 기능적 연결성이 정신적 회복 능력의 즉각적인 증가와 유지를 반영함을 보여주었다. (Kwak et al., Front Hum Neurosci, 2019)

Genu of corpus callosum, which connects the two hemispheres of prefrontal cortex and superior longitudinal fasciculus, which connects lateral prefrontal cortex and ACC were investigated via diffusion kurtosis imaging. As the result, the Meditation group, post-Templestay, showed significant increases in the two investigated regions of interest. The study observed Templestay changes the white matter myelination in the regions that are critical in our cognitive functioning.
위 연구는 강박증 환자에서 선택적 세로토닌 재흡수 억제제 치료 반응에 따른 솔기핵의 기능적 뇌연결성 변화를 확인하여, 솔기핵과 좌측 중간측두피질 사이의 증가된 연결성이 강박증의 약물치료의 반응부족과 연관되는 것을 규명하였고, 솔기핵의 뇌연결성 지표가 강박증 환자에 있어 치료반응 여부를 예측하는 바이오마커로 기능할 수 있음을 제시하였다 (Kim et al., Neuropsychopharmacol, 2019).
Intuition is believed to be the ability to automatically or reflexively recognize trained contents stored in long-term memory. With the development of brain and cognitive science and brain imaging technology, the brain's ability to change its function and structure through training has been revealed, which is now called neuroplasticity. Long-term or highly intensive training improves cognitive and motor function and changes brain structure and function associated with its function. In relation to the improvement of cognitive function through training, especially the executive ability and the related changes in the structure and function of the frontal and parietal lobes of the brain have been reported.

There have been some studies on the activation of the brain during game play by board game experts. However, little is known about changes in brain activity related to the working memory of board game experts. In order to prove this, we are conducting research on 'Baduk', a board game that requires a high level of executive function. The purpose of this study was to investigate whether there is a change in brain activity and connectivity during the working memory of people who have been educated on Baduk using brain magnetic resonance imaging data.
직관력은 오랜 기간 훈련을 통해 장기 기억으로 저장된 훈련 내용을 자동적 또는 반사적으로 재인하는 능력이다. 뇌인지과학 및 뇌 영상기술의 발달로, 훈련을 통해 뇌의 기능 및 구조가 변화하는 특성 (뇌 가소성) 이 밝혀졌다. 장기간 혹은 고도로 집중된 훈련을 받음으로써 이와 관련된 인지 및 운동 기능이 향상되고 그 기능과 연관된 뇌의 구조 및 기능에 변화가 생긴다. 훈련을 통한 인지기능의 향상과 관련하여 특히 작업기능 능력, 그리고 이와 연관된 뇌의 전두엽 및 두정엽의 구조 및 기능의 변화가 보고 되었다.

현재까지 보드게임 전문가들이 게임을 진행하는 동안 일어나는 뇌의 활성반응에 대한 연구는 보고된 바 있지만, 보드 게임 전문가들의 작업기억과 관련하여 뇌의 활성 변화에 대한 연구는 미비하다. 이를 증명하고자, 고도의 작업기능 능력이 요구되는 보드 게임인 '바둑' 을 소재로 하여 연구를 진행하였다. 뇌자기공명영상 데이터를 이용하여 바둑 교육을 받은 사람들이 작업기억 과제를 수행하는 동안 뇌의 활성과 연결성에 변화가 있는지를 알아보고자 하였다.
Major Studies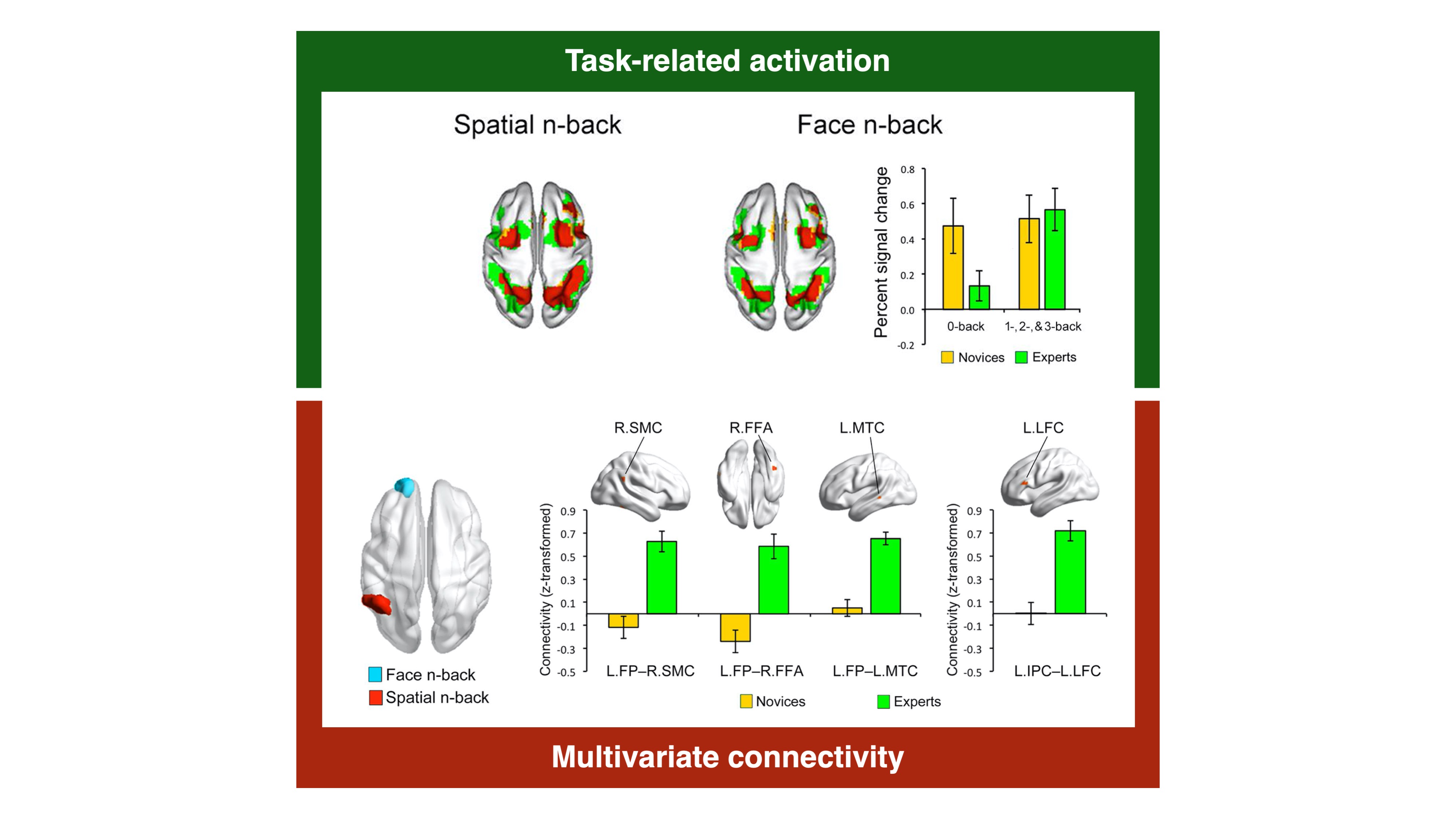 Neuroscientists have demonstrated brain mechanisms underlying domain-specific cognitive functions used for playing Baduk (Go) game. However, it still remains to investigate if brain networks are associated with cognitive skills not directly trained. We examined functional network organization of Baduk experts while they perform n-back working memory (WM) tasks. Experts showed stronger frontal-parietal and frontal-temporal connections, in addition to parietal hyperactivation, during the WM tasks than novices. These findings suggest that a long-term Baduk training reorganize functional brain interactions that are involved in cognitive ability even beyond the domain-specific expertise.
신경과학자들은 바둑 게임 시 활용되는 특정 인지기능의 관련 뇌 기전을 밝혔다. 하지만, 바둑 연습을 통해 직접적으로 단련되지 않는 인지 능력들 (예, 작업기억 능력)도 특정 뇌 신경망 기전을 갖는지는 아직 밝혀지지 않았다. 이를 밝히기 위해, 본 연구는 n-back 작업기억 과제를 시행하며 바둑 기사들의 뇌 신경망 구성을 살펴보았다. 바둑기사들은 초보자들에 비해 더욱 활성화도니 두정엽 신경반응에 더불어, 강한 전두-두정엽 및 전두-측두엽 연결성을 보였다. 본 연구 결과는 장기간 바둑 훈련이 뇌 기능적 연결성을 재구성하여, 바둑과 직접적으로 관련되지 않는 인지기능에도 영향을 미침을 시사한다 (Jung et al., Front Hum Neurosci, 2018).

People can reach a certain level of expertise through professional trainings, and neuroscience studies have shown that the expertise is encoded in individual's brain connectome. We examined if professional Baduk (Go) players have differences in major networks (DMN, LFPN, RFPN, and SN) of resting-state brain compared to normal controls. We found that experts, compared to normal controls, had higher extrinsic connectivity with regions, which are involved in board game expertise, within each given network. Our findings suggest that a long-term training results in within-network brain integration, which are necessary for high-level performance.
사람들은 전문적인 교육/훈련을 통해 일정 수준의 전문성에 도달할 수 있으며, 뇌과학 연구는 우리 뇌가 전문성에 따라 개인의 신경망을 조직한다고 주장한다. 우리는 이러한 주장을 뒷받침하고자 오랫동안 바둑 훈련을 받은 전문 기사의 뇌 휴지기 신경망들이 일반인과 다른 양상을 가지는지 확인했다. 연구 결과, 바둑 기사들의 각 신경망은 보드게임 전문성에 관여하는 뇌 영역과의 연결성이 강화되어 있었다. 이는 오랜 기간 동안의 전문 훈련이 각 주요 뇌 신경망을 더욱 통합시켜, 전문 능력 향상에 도움을 줄 수 있음을 시사한다 (Sohn et al., Brain Behav, 2017).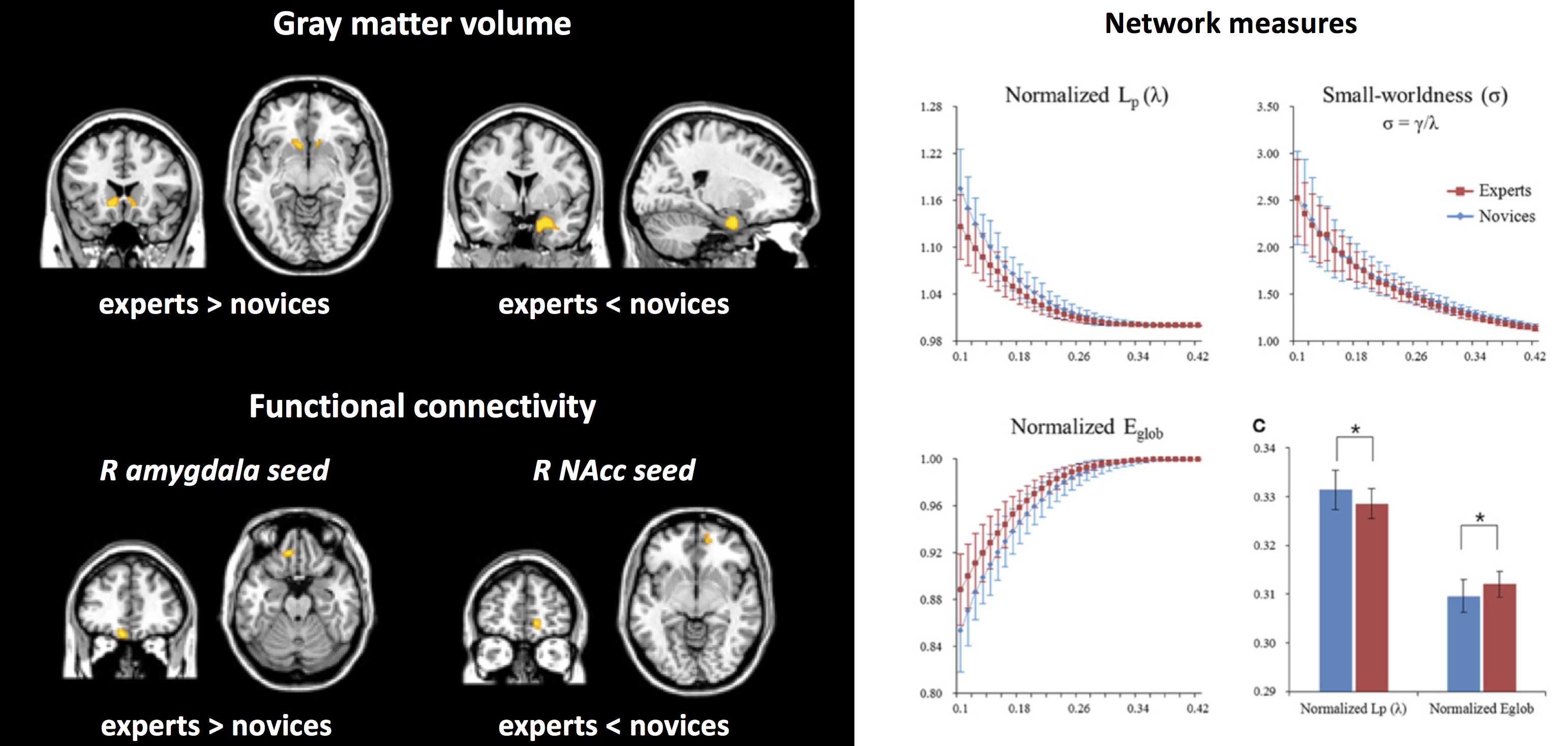 Long-term trainings enable experts to have intuitive decision-making ability, which is reflected in neural mechanisms. Here, we aimed to reveal differences in brain structures and functions between professional Baduk (Go) players and novices. Through analyses of voxel-based morphometry and functional connectivity, we found Baduk experts had 1) larger volume & weaker connectivity of nucleus accumbens, and 2) smaller volume & stronger connectivity of amygdala than novices. Topographical analysis additionally showed more integration of functional network in experts. From a perspective of neuroscience, we suggest that intuitive decision-making of Baduk expertise are mediated by somatic marker circuitry and visuospatial processing.
전문가들의 통찰력 있는 의사결정은 장기간 훈련을 통해 만들어지고, 이는 뇌 신경 기전에 반영된다. 이를 바탕으로, 본 연구는 전문 바둑 기사와 초보자의 뇌 구조 및 기능적 차이를 살펴보았다. 뇌 구조 및 기능적 연결성 분석 결과, 전문 바둑 기사는 1) 크기가 크지만 연결성이 약화되어 있는 중격핵과, 2) 작지만 연결성이 강화되어 있는 편도체를 가진 것을 확인했다. 또한, 네트워크 분석을 통해 바둑 기사들이 초보자들에 비해 더욱 잘 통합된 뇌 신경망을 가진 것을 확인했다. 이 연구는 바둑 기사의 통찰력 있는 의사결정이 중재되는 인지신경 기전을 신경과학적으로 제시했다 (Jung et al., Front Hum Neurosci, 2013).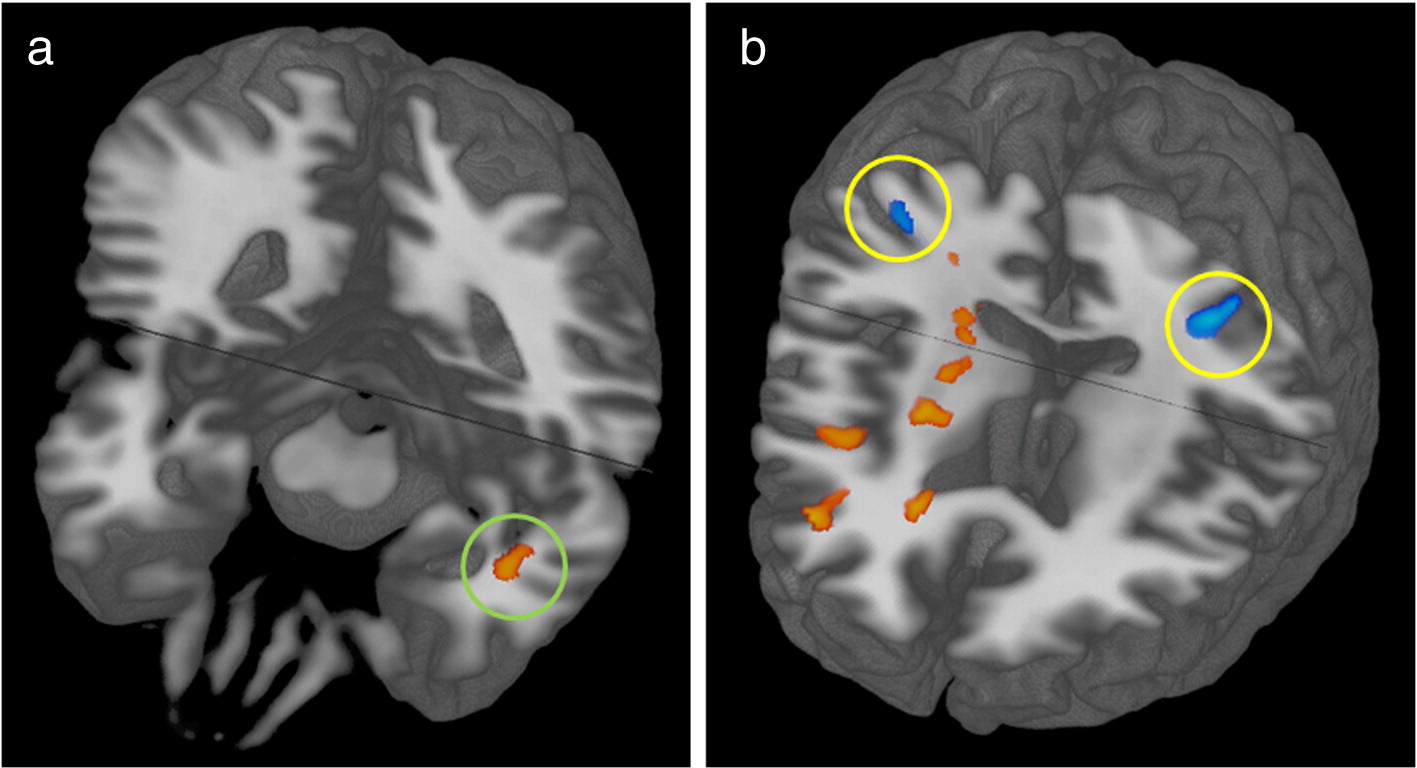 Long-term professional training develops domain-related cognitive functions and lead neuroplastic changes. To test effects of professional Baduk (Go) training, we examined white matter connectivity differences between Baduk experts and controls. Experts had greater fronto-striato-thalamic connectivity and lower parietal connectivity than controls. The findings suggest that Baduk experts have developed their brain to improve high-level cognitive functions, such as learning, abstract reasoning, and self-control.
장기간의 전문 훈련은 각 분야 관련 인지기능 발달과 함께 신경가소성 변화를 가져온다. 전문 바둑 훈련의 영향이 일으키는 뇌 신경가소성 변화를 확인하기 위해, 본 연구는 바둑 기사와 대조군의 뇌 백질 연결성 차이를 비교했다. 그 결과, 바둑 기사의 전두엽-선조체-시상 연결성이 강화되어 있고 두정엽의 연결성이 저하되어 있는 것을 확인했다. 이는 기사의 장기간 바둑 훈련이 고위 인지기능 (학습, 추론, 자기-조절 등) 에 관련된 뇌 발달을 일으켰음을 시사한다. (Lee et al., Neuroimage, 2010).
The interdisciplinary research center for Cultrue-Brain Dynamics aims to solve the negative social phenomena caused by the complexity of society. The center approaches to converge the theories and methods of natural sciences and engineering to them of humanities and social sciences in order to study 'culture' that has been studied only in the humanities or social science for long time.

The center reviewed potential factors that can influence individual decision-making within the culture, built a multi-dimensional database (CuBE; Culture/Brain/co-Evolution), and anlayzed correlations between indicators.

If the function is severely impaired in both the interpersonal and occupational aspects of the individuals, problems in social interaction may arise. From a clinical point of view, this may be diagnoses as a psychological problem or seen as a public health problem. Social cognitive functions and social relationships are now considered as key topics in the scientific community. We concentrate on examining various aspects of social cognitive functioning and social relationships through neuropsychological, clinical, and neuroimaging evaluations of these social interaction problems. In particular, the following research topics are underway: research on the relationship between audio-visual integration and social functions, the possibility of change in loneliness and the relationship between the brain network in the resting-state, and the relationship between political orientation of individuals and brain structural and functional connectivity.
문화-뇌 다이나믹스 초학제 연구 센터에서는 사회의 복잡성으로 인한 부정적 사회현상을 해결하는 것을 목표로 한다. 이를 위해 인문/사회적으로만 연구되어 오던 '문화'에 대해 자연과학과 공학의 이론 및 방법을 융합하여 초학제적으로 접근한다. 센터는 문화 내에서 개인의 의사결정에 영샹을 미칠 수 있는 잠재 요인들을 검토하여 다차원의 데이터베이스 (CuBE; Culture/Brain/co-Evolution) 를 구축하고, 지표들 사이의 상관관계를 분석한다.

개인과 대인관계와 직업적 측면 모두에서 기능이 매우 저하되면 사회적 상호작용 시 문제가 발생할 수 있는데, 임상적 관점에서는 이를 심리 문제로 진단하거나 공중보건학적인 문제로 본다. 사회인지기능 및 사회적 관계양상은 현재 과학계에서 핵심적인 주제로 다루고 있다. 이러한 사회적 상호작용 상 발생하는 문제에 대해, 신경심리학적, 임상적, 뇌영상학적 평가를 통해 인간의 다양한 사회인지기능 및 사회적 관계양상을 살펴보는 것에 집중한다. 특히, 시-청각 통합 기능과 사회적 기능간 관련성 연구, 외로움의 변화 가능성과 뇌 휴지기 네트워크의 관련성 연구, 그리고 개인의 정치 성향과 뇌 구조적/기능적 연결성 및 심리지표 사이의 관련성 연구를 진행중이다.